Sitelok by Vibralogix is a flexible PHP & MySQL based script, enabling you to secure pages on your website for access to members only. Multiple user groups allow you to completely control who has access to each page & for how long. You can even allow visitor access to pages while making parts of the page visible only to logged in members. Users can register for free or pay for access using Paypal or Stripe.
How does it work with RW
The first step is to upload on your server the Sitelok install folder and follow the easy installation tutorial that comes with the software to set up a database on your server.
Once that is done, you can use the Sitelok Stacks for Rapidweaver by Weavers Space to start working on your project file. You will be able to show/hide sections of your website depending if a user is logged in or not. Sitelok stacks work right out of the box even on your previously designed website, with the drag and drop interface that we all love.
Flexibility is there when you need it.
We've developed a few websites using Sitelok, and are truly impressed with the flexibility of this product. Each membership website is different, each present a different case scenario that require fine tuning, you won't be let down by this platform.
What we particularly like about Sitelok is that it doesn't restrict at all the number of members or teammates you can have on a single project, giving you full access to its power at a small one-time fee.
You can even expand its reach buy installing the plugins Vibralogix created. Most of them are free such as PayPal, Stripe, Stats, ... Other require an extra payment such as the Amazon SES plugin that will allow you to send mass emails to all your subscribers at the lowest rates on the market (10,000 Emails for 1 USD).
Using Sitelok
You will manage all Sitelok functionality from its intuitive admin area. You can create user-groups with different permissions and give users access to each of them through forms.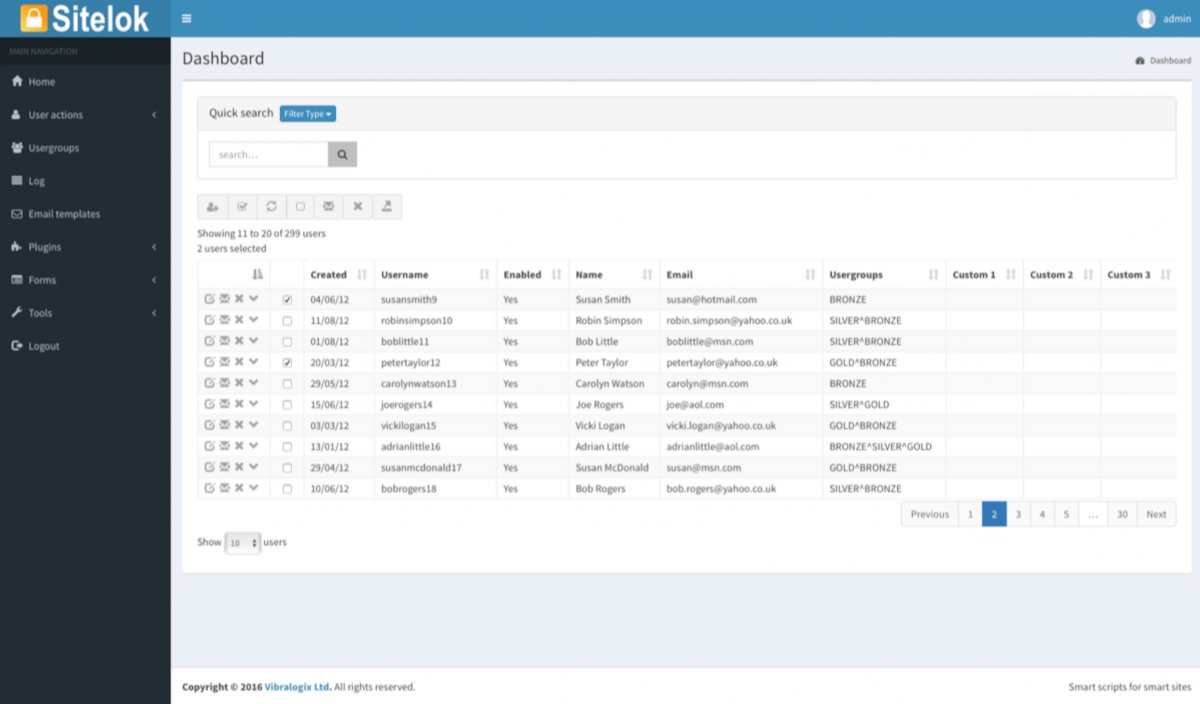 You can style your forms either from Sitelok itself or using your theme settings in RW.
The Sitelok stacks suite allows you to easily import into your project file the forms needed for your users to sign up. You can set up free sign up form or payments for memberships. You can even set memberships to automatically renew.
Here is a video overview